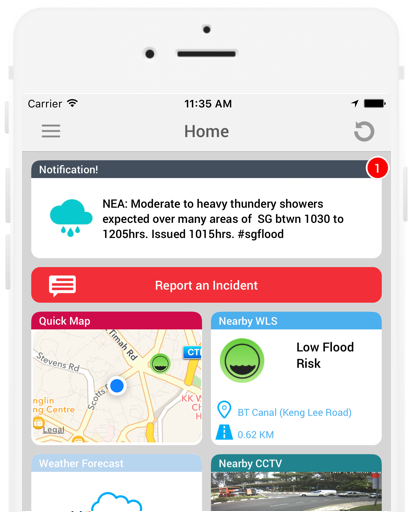 Creating Convenience For You
"MyWaters app is a natural extension of our public engagement efforts to better connect with the community…. provides seamless up-to-date information at your fingertips and is a great way for us to reach out and interact with users wherever they are." – George Madhavan, Director of 3P Network at PUB
Platform: Android, IOS, Web
The Goal
The Public Utilities Board (PUB) is the national water agency that manages Singapore's water supply, water catchment, and other water-related matters. Working with the PUB, our task was to create an app that would provide people in Singapore a range of PUB services.
The Idea
When it rains, you do not want to be caught in it.
When we designed the MyWaters app, our focus was on how the app could make life more convenient.
Will it be raining today? Did the heavy rain cause any flooding? Are there any water-related events or sport activities coming up? Not only did we want the masses to have these water-related information at their fingertips, we also wanted them to have easy access to e-Services provided by PUB.
The Outcome
Connect with PUB everywhere you go.
We created an easy-to-use app that has multiple features. With the MyWaters app, users can receive timely weather updates, obtain information on water-related matters, make bookings for PUB's facilities, and pay for various PUB services. All they need is their smartphone.
Testimonials
"MyWaters app is a natural extension of our public engagement efforts to better connect with the community…. provides seamless up-to-date information at your fingertips and is a great way for us to reach out and interact with users wherever they are." – George Madhavan, Director of 3P Network at PUB