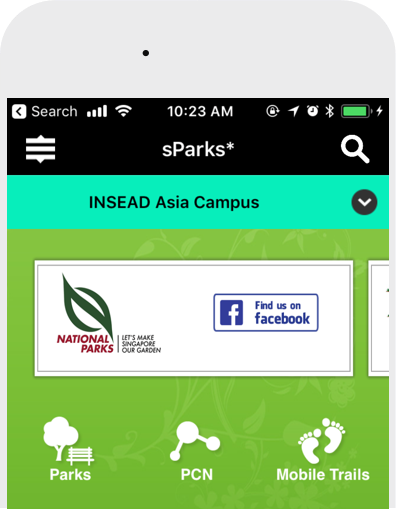 A walk in the parks
For park enthusiasts and nature lovers. If you appreciate enclaves of green within a city, sParks will help maximise your exploration of Singapore's world-class gardens, trails, park connectors and lifestyle options. sParks was designed in collaboration with the National Parks Board (NParks).
Platform: Android, IOS
The Goal
When the National Parks Board (NParks) entrusted us with the task to create an app that would improve the experience of park visitors, we took this challenge head on.
The Idea
When you want to visit a park, we tell you everything about it.
Using location-based mobile technology, we designed an app that would enable the general public to easily obtain information about parks and nature reserves managed by NParks. Wherever they might be, the app would show them the nearest park or nature reserve, as well as upcoming events in the parks and nature reserves.
The Outcome
4.5-star rating and great reviews.
In early 2013, we launched the sParks* mobile application.
Testimonials
"This app is very helpful in exploring Singapore from a different angle. Especially the park connectors , but also a lot of useful details about the neighbourhood can be learned. Thank you, this app is very useful!"
"I especially like the Park Lifestyle listings, which helps me to easily find nearby eateries and interesting places at parks and park connectors. The PCN Map Views are also very useful for exploring our expanding cycling network!"
"I'm glad the billboard placed at the reservoir captured my attention to download this App. Great App with good information provided for exploring the different "greens" in Singapore."