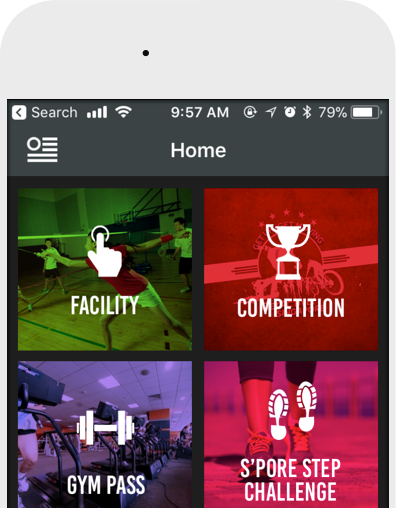 Get Active, Have Fun, Live Better
For smartphone users who have varied interests and wish to explore sports and activity venues across Singapore. ActiveSG gives realtime access to all facilities and programmes managed by Sport Singapore. Search by proximity and availability. Bookings, purchases and payments. All one feature-rich app.
Platform: Android, IOS, Web
The Goal
Enhancing Sport Singapore's facility booking system
In 2013, we were awarded a contract by the Singapore Sports Council (now known as Sport Singapore) to create a mobile application platform that allows people to book sport facilities and make payments in a fast and convenient way.
The Idea
One platform, many services.

Sports facilities, programs, courses, activities… We sought to create an app that enables users to make bookings for everything and anything related to sports and fitness. At the same time, we wanted people to have a secure e-Wallet platform so that they could make immediate payments for their bookings and purchases of entry passes.
The Outcome
We make it fast.
Within four months of clinching the contract, we created the ActiveSG app and launched it in both the App Store and Google Play in April 2014.
Testimonials
"The app is cool. Very convenient to book facilities and programmes for my children."
"Can easily check on my ActiveSG$ After each use of the ActiveSG$, I can use the app to check my balance. I can also topup with cash for cashless transactions."
"Great. A good App that drives a very powerful health fitness agenda!"
"App is easy to use. Just log in and buy swimming pass and get the QR code then scan at the gantry. One try and I am in!"